The digital economy is a critical enabler of products and services across numerous sectors, as organizations increase their reliance on data and digital platforms.
As a driver of economic growth and competitiveness, however, the science and production of digital technologies are also becoming an area of fierce competition between countries. Global spending on ICT (information and communication technology) has increased steadily at 4% annually for several years, reaching a total of US$4.9trn in 2019.1 Despite the pandemic-related slowdown in momentum for traditional type of hardware and enterprise software, spending on newer technologies such as IoT (Internet of Things), robotics, 3D printing, AI and VR is expected to grow at a faster pace. Global ICT spending is forecasted to increase from US$5.2trn in 2021 to US$5.8trn in 2023, with an annual growth of 6%. Newer technologies will account for 23% of total spend in 2023, up from 14% in 2018.2
The digital economy is also a considerable driver of international trade, with cross border exports of ICT good and services estimated at US$2.74trn in 20203. While trade in goods accounts for the highest share, trade in ICT services is growing annually by 7.7% (CAGR) between 2010 and 2017.4
Rapid recovery: Worldwide ICT spending, 2018-2023 (US$ bn)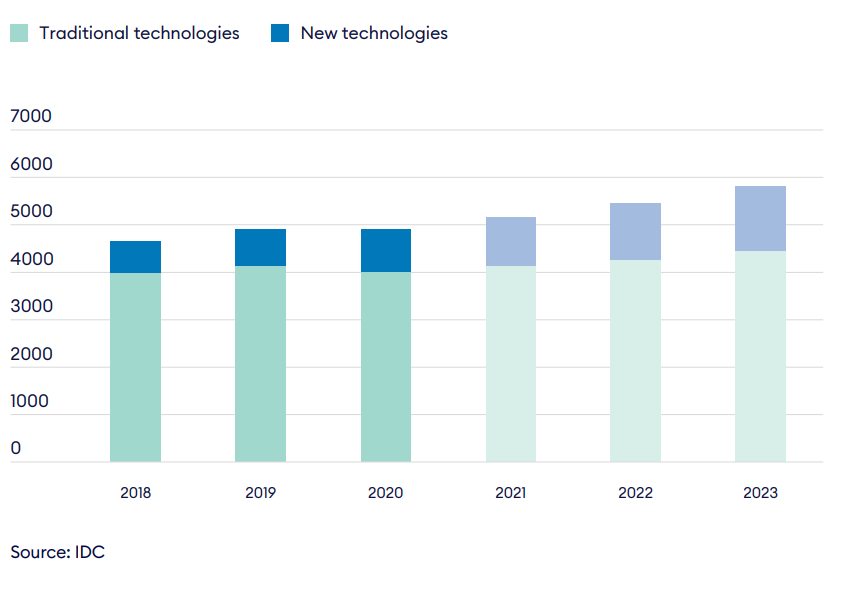 Several high-profile sub-sectors epitomize the rapid growth of and challenges faced by the digital technology sector. The worldwide revenue from the sale of artificial intelligence (AI) -based software and services stood at US$62bn in 2020 and is set to reach US$998 by 20285. One study estimated the potential value generated by application of AI techniques across various industries places the market between US$3.5trn and US$5.8trn.6 However, there are two main obstacles that hinder a widescale AI adoption: the shortage of good quality data and data scientists, particularly as the talent that drives improvements in AI is largely concentrated in large economies such as the US, UK, Germany and China.
Cybersecurity is also an area that has attracted growing investment from corporates and VCs. With the advent of the digital economy, cyber threats put organizations and societies at risk. Global revenues for cybersecurity services are projected to grow from US$67bn in 2019 to US$111bn in 2025.7 Funding for companies providing cybersecurity services has increased nine-fold to US$7.8bn in 20208. The pandemic has further highlighted security vulnerabilities faced by organizations, as the mass shift to remote working coupled with the increased use of cloud infrastructure and services have exposed many to cybersecurity threats.
The pandemic has also impacted semiconductors, a key commodity for the digital economy representing a market expected to grow to US$469bn in 2021.9 A rise in demand for digital services and computer equipment caused severe supply chain disruptions across the global semiconductor production. The shortages have thrown light on the inadequate resilience of technology sector supply chains. They have also underscored the extreme concentration of semiconductor production. Although US firms account for 47% of global sales, most exports originate from East Asia—namely Taiwan, South Korea and China. Moreover, the most advanced generation of semiconductors is currently produced at scale only by Taiwan's TSMC and South Korea's Samsung.10
Something's phishy: Share of cyber security breaches reported by UK companies over previous 12 months, by type of breach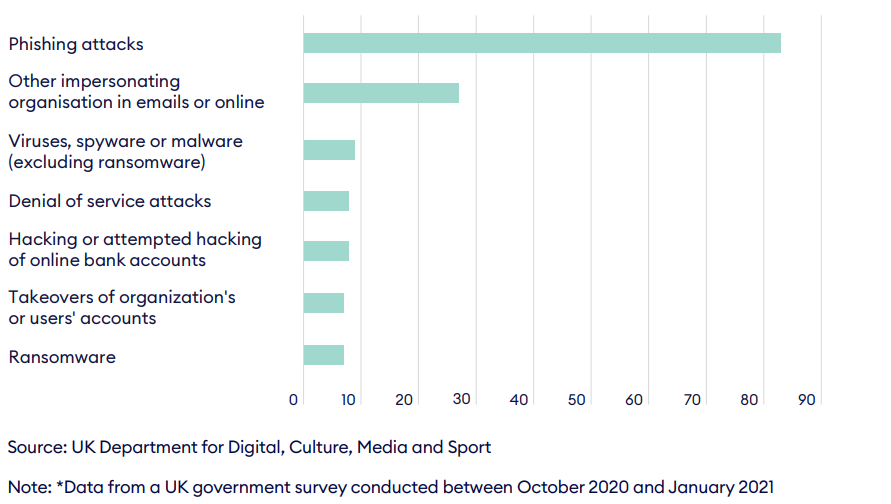 As digital dominates more parts of the global economy, governments are taking proactive action to include the digital economy within national industrial policy. The need to gain strategic autonomy, in light of growing geopolitical rivalries, is prompting governments to adopt policies aimed at protecting their national technology sector. Since 2008, 101 countries representing more than 90% of global GDP have adopted formal industrial development strategies.11 These have focused mainly on supporting technology innovation and the digital economy. The resulting risk of fragmentation of global technology supply chains is likely to stay high on the agenda for global technology companies and governments around the world.
2 Ibid
3 Estimated using World Development Indicators and IDC data.
4 Ibid
10 Ibid