The pandemic posed an unprecedented challenge to the consumer goods sector, as lockdowns imposed changes on consumer behavior, consumer spending sharply declined.
Prior to the Covid-19 pandemic, consumer goods accounted for a quarter of the world's trade in goods, representing US$4.8trn in 2019.1 In 2020 private consumption declined by nearly 11% in the UK and Italy, 6-7% in Germany, France and Japan and 4% and 3% in the US and China respectively.2 Some goods sectors suffered more than others. Travel, entertainment and hospitality were some of the hardest hit, while others, like electronics, saw demand increase as remote working became widespread. The pandemic has further accelerated several structural changes already underway. These include a rapid growth in e-commerce and digitalisation of global supply chains, an increased focus on sustainability, a move towards greater servicification and the reshaping of global value chains.
Pandemic shock: Change in private consumption during the Global recession (2009) and Covid-19 pandemic (2020) | Real annual change (%)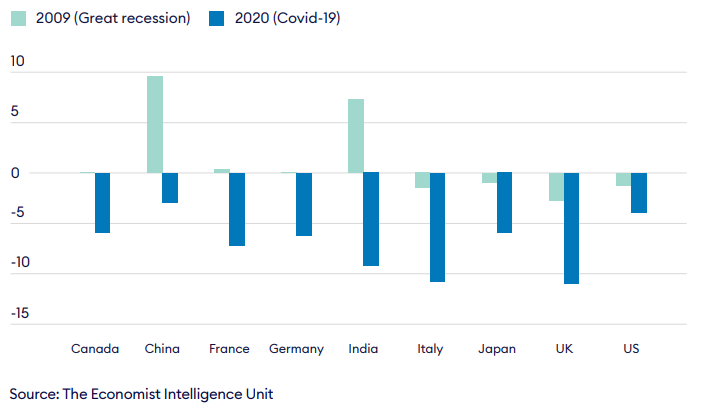 During the pandemic, consumers pivoted to digital channels, with 60% of consumers worldwide changing their shopping behaviors during the pandemic, most of whom intend to continue with their new behaviors.3 The migration from high street stores to e-commerce platforms has accelerated digitalisation, with businesses that had already invested in e-commerce coming out as chief beneficiaries. Amazon, for example, posted a 70% increase in earnings during the first nine months of 20204, with profits three times higher than 2019.5
The pandemic also highlighted the issue of resilience and sustainability of global supply chains. Multinational enterprises (MNEs) in 2020 slowly started to scale back their supply chains, considering the geopolitical and economic tensions between the US and China and the growing issue of sourcing from a single geography. Significant supply chain disruptions were faced by businesses during the pandemic, with one survey on supply chain executives in the food and consumer goods industries highlighting that at the height of the pandemic, 91% of respondents said they had problems with suppliers.6 These tensions are playing out in the context of rapidly changing geographical distribution of global trade patterns. In the decade since the 2008 financial crisis, Chinese share of global exports has increased to 17% (from 11.5%) and 13.4% of global imports (from 8.7%).7 The Asia-Pacific region is now largely expected to outgrow developed markets in consumer goods, accounting for up to 35% of the global industry share by 2022.8
The changing game of trade: The export volume of goods index rebased to 2010=100
The rise of digital and sustainable consumption poses significant opportunities and challenges for businesses in the consumer goods sector. The online retail market is forecast to double in size by 20259, with new or low frequency users expected to drive a 160% increase in e-commerce purchases over the coming years. Businesses are showing some strong interest in harnessing the trends of digitalization with 80% of executives in the industry specifically allocating investments to improve their e-commerce shopping platforms in 2021.10
Digital future: Share of on-line retail on total retail sales (%)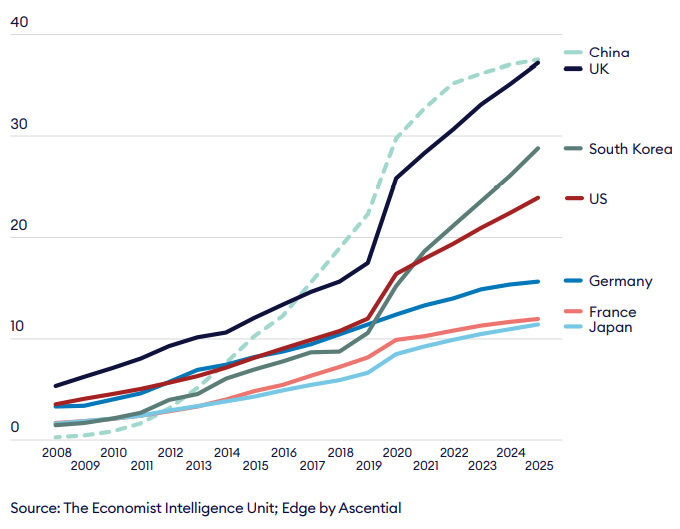 Sustainability has also moved high in the consumer goods agenda, with more than half of consumers across all markets intending to purchase more sustainable products once the pandemic subsides.11Businesses are adapting to increase resilience and sustainability of their internal businesses and their supply chains. Advances in cloud software, blockchain, artificial intelligence (AI) and satellite technology can be harnessed to enable flexibility and resilience in supply chains.
1 UNCTAD. 'Key statistics and trends in international trade 2020' (internet). United Nations Conference on Trade and Development. 2021 (accessed 9.6.21). Available at: https://unctad.org/system/files/official-document/ditctab2020d4_en.pdf
4Takefman, B. 'Amazon profits increased nearly 200% since start of Covid-19 pandemic' (internet). ResearchFDI. 2021 (accessed 14.6.21).
Available at: https://researchfdi.com/amazon-covid-19-pandemic-profits/
5Sky News. 'Amazon's profits more than tripled in the first three months of 2021' (internet). Sky. 2021. Accessed 14.6.21).
Available at: https://news.sky.com/story/amazons-profits-more-than-tripled-in-the-first-three-months-of-2021-12290876