For centuries, advances in technology have sparked economic growth. Arguments have been made, however, that this millennia-long period of technological advancement, and attendant economic growth, may have come to an end--or could at least be in the midst of a prolonged pause. The questions now are whether all the "low-hanging fruit" of technological progress have been picked or, relatedly, if technology is reallocating resources instead of providing new growth.
Executives surveyed for this report are optimistic. Of 660 executives we surveyed across eight countries and three industry groupings, fifty-three percent responded that technology will be "much more important" to economic growth five years from now and 42% responded that it will be "more important." Only 3.5% answered that the impact of technology would be "about the same" and less than 1% answered it would be "less important."
Other findings from the research include:
Not surprisingly, the fourth sector surveyed, technology, was the most optimistic, with 61% of executives answering that tech would be "much more important."
At the market level, in Hong Kong just 31% of executives believe tech will be "much more important" in five years. On the other end of the spectrum was India, where 73% answered that tech will be "much more important."
Executives from larger firms, which we define for the purposes of this study as having annual revenue of A$200mn and above (roughly US$137mn at current exchange rates), were more positive on the importance of tech to economic growth than were executives at smaller firms.
When asked what their primary considerations are for selecting a technology partner, the two most-popular answers among the six options provided were "the company reputation" and evidence of "ongoing development and investment in the technology and/or platform." Both received 54% of responses.
Is your company ready to tailor with technology?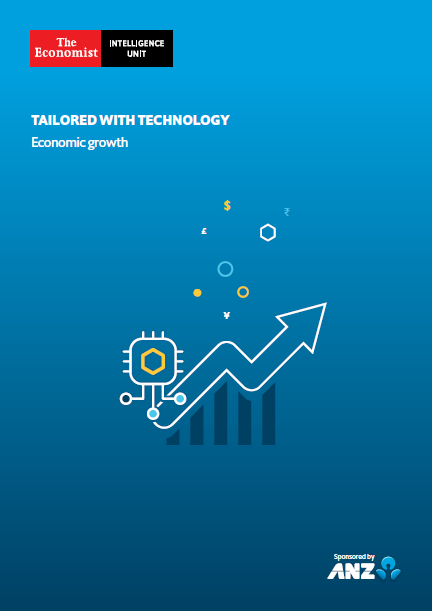 Tailored with technology: Economic growth is the third in a series of papers from The Economist Intelligence Unit sponsored by ANZ. This report is based on the results of a survey of more than 750 executives across eight markets.
This paper was written by Chris Clague. Findings from the survey were supplemented with research and in-depth interviews with experts and executives. Our thanks are due to the following people, listed alphabetically by surname:
Simon Evenett, professor of international trade and economic development, University of St Gallen
Gog Soon Joo, chief futurist and chief skills officer, Skills Future Singapore
Andrew Hoad, chief executive officer, Asia, DP World
Ritesh Kumar, chief executive officer, Indonomics Consulting
Jayant Menon, lead economist, Office of the chief economist and director general, Asian Development Bank
Yasunori Mochizuki, fellow for IoT, robotics and smart cities, World Economic Forum