It's not who you know, it's who you really know.
Reid Hoffman, entrepreneur and internet pioneer, once philosophised that modern society is moving from the information age to the network age, where hyperconnectivity allows knowledge to be rapidly transmitted across the world. Yet as the first wave of social networks mature, the pursuit of profit is fostering an unwieldy growth of mass connectivity, which is increasingly making our online networks less useful.
In early 2017, Twitter was recategorised as a news app in the Apple Store, self-assessing that it was no-longer a network and instead had become a media/news feed mostly comprised of businesses and influencers.
Facebook has equally drifted away from natural reciprocal engagement between friends and family, having bred a class of content creators (those who post everything) and consumers (those who scroll and "like" incessantly). Their acquisition strategy also indicates a shift away from the network and towards a media company (Oculus; Ascenta; Moves; Surreal Vision; broadcast partnerships), with Mark Zuckerberg, its founder, indicating at this year's 'F8' conference that the company's main priority would be investing in augmented reality.
In 2015, a report revealed that Facebook had been struggling to reverse a 21% decline in original sharing. This trend for Facebook continued in 2016, with a study of 25m posts indicating that users posted a third less content than in 2015. The same research found that user engagement rates dropped minus 15% overall from 2015 to 2016 levels. The ongoing rollout of features like birthday notifications and "hello" push notifications are indicative of their growing desire to reverse the decline in peer-to-peer engagement.
For users of LinkedIn, the shift away from close professional connections and towards a network culture of mass connectivity to facilitate hiring, selling, and advertising (which maps to LinkedIn's three major business lines Talent Solutions; Sales Solutions and Marketing Solutions) is evident for anyone who has logged in in the past few years.
In 2009, Peter Thiel, an entrepreneur who played an important role as an early investor in Facebook and LinkedIn, said: "We went from the development of telecommunication to the internet and from the internet to social networking. Maybe there is no innovation left any more, and we have to look for it in a completely different direction."
In that same year, Jonathan Goldman, a data scientist, developed Linkedin's "People you may know" feature, the first of its kind in the online networking sphere. The release of this feature turned out to be an inflection point and a prevailing notion was born: no number of connections is ever enough.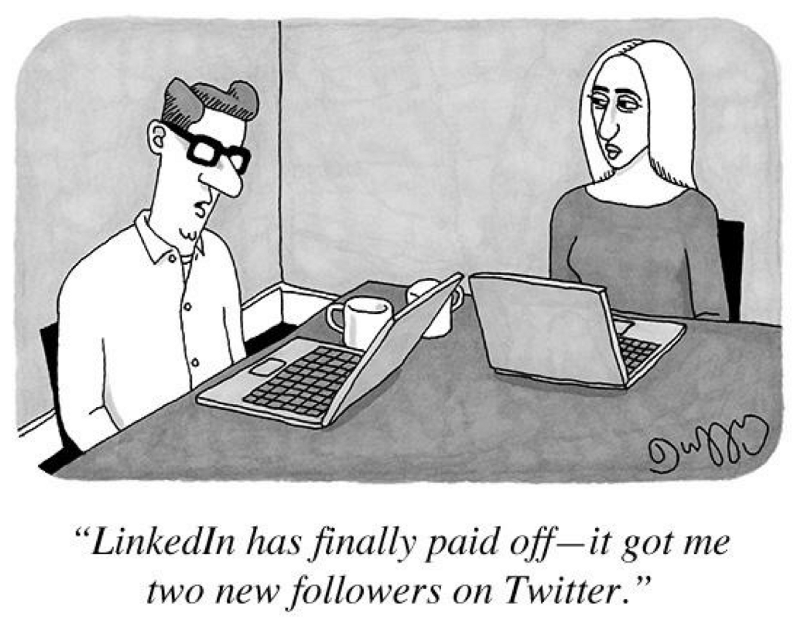 Clever algorithms paired with persuasive cues have resulted in mass compulsion to grow one's followers and connections - through often mindless networking activities. In reality, it is often a mass add or import.
Network density
Linkedin, in particular, has strived for what is known as network density. This is a common statistical way to measure network health and effectiveness. To calculate network density, one divides the number of connections in one's network by the number of potential connections (eg. if someone has 100 connections in a network of 1000 possible connections, the network density would be 10%).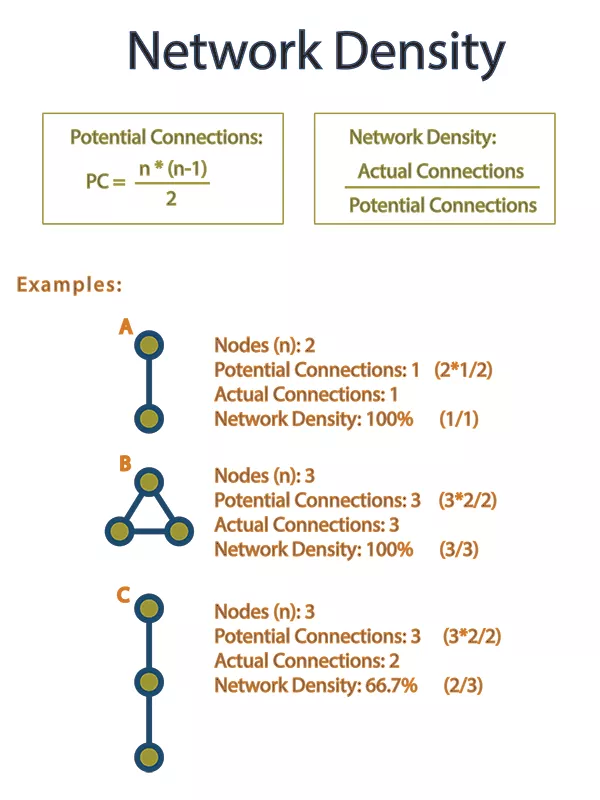 Source: http://www.the-vital-edge.com/what-is-network-density/
Encouraging people to connect means that people are likely to spend more time engaging with the platform. The more connections one has, the greater the time spent liking, accepting, endorsing, commenting, messaging, well-wishing, and congratulating in compulsive reciprocity.
For an individual, all else being equal, the number of connections is inversely proportional to one's ability to build and nurture them, an activity that is critical for professional success in most industries. When the number of potential connections is in the hundreds (let alone millions), growing one's network density can be counterproductive.
When a network gets too big, members lose affinity. They have access to many people and ideas, but can't put them to use professionally. The flow of ideas and information becomes more generic. Members lack intelligence about how to sell ideas or win decision-makers over, critical steps to effecting change or selling services. This has the potential to negatively impact growth and success, particularly for professions that rely on networks.
The next horizon
The challenge for the next wave of network-based startups is to break free from the continuous cycle of network saturation in order to create meaning, premised by strong connection and trust.
Businesses that are able to create these connections will drive strong outcomes, strengthen relationships and improve the capability of the collective mind. These startups for example are few and far between, because such businesses are so intrinsically focused on time on site. Yet, if quality of outcomes manifests itself in sustainable business models, the idea of 'more is less' in an online network could be incredibly impactful. 
The notion of building a 'trusted' network has been a perennial challenge since the genesis of the social network. Some companies are aiming to use new tools and technology to build trust within a network.
Conspire, an online platform, uses recommendations from others in a network to meet new people. It needs to access one's email address in order to analyse a person's contacts and uses machine learning to recognise the strength of connections are based on the frequency of someone's interactions. Teamable, another platform, uses trusted employee relationships to facilitate recruiting full time staff. The software taps into social networks and incentivises existing employees to connect and refer their friends for roles within the business.
Within businesses, traditional chat apps have been reappropriated to small discrete networks and relationships with enormous success (most notably, Slack) in order to foster networks. Traditional social media companies are now entering this space (Facebook Messenger for business for example).
The future of the network is no longer about size and span. The future lies in re-kindling tightly forged bonds that allow businesses and individuals to interact in meaningful ways, with equally strong outcomes for professionals and society alike.
The views and opinions expressed in this article are those of the authors and do not necessarily reflect the views of The Economist Intelligence Unit Limited (EIU) or any other member of The Economist Group. The Economist Group (including the EIU) cannot accept any responsibility or liability for reliance by any person on this article or any of the information, opinions or conclusions set out in the article.