Competition to acquire innovative German firms is hotting up, and effective integration is becoming a strategic success factor
Large German companies, particularly those in the country's innovative engineering and manufacturing sectors, have recently been making headlines as acquisition targets for foreign suitors. In 2016 the €4.5bn (US$5.4bn) acquisition of pioneering robot maker KUKA by Chinese appliance manufacturer Midea exemplified growing Chinese interest in German investments. This is driven by China's "strategic plan to be much more focused on innovation … to enable them to shift to a more advanced industrial society", Martin Reitz, chief executive of investment bank Rothschild Germany, told the Financial Times.
But acquisition is also a source of innovation for German companies themselves. A recent survey of business leaders in Germany, conducted by The Economist Intelligence Unit (EIU) and sponsored by Rackspace, shows that the country's large firms are hungry to buy companies that can help them innovate. Of the 200 German respondents to the our survey, all drawn from companies with US$1bn or more in annual revenue, seven out of ten agree that acquisition is a good strategy for innovation. And one-half say they have acquired at least one smaller, innovative firm in the past five years.
However, our survey also reveals that there is strong competition for acquisitions in Germany, and merging corporate cultures while maintaining the creative spark continues to challenge firms eager to buy their way into innovation. "If you don't achieve a common corporate culture, it will fail in the long run," says Eike Böhm, chief technology officer at the Wiesbaden-headquartered warehouse equipment manufacturer KION, which has made two big acquisitions in the past 18 months.
Challenging decisions
Among survey respondents who have made acquisitions in pursuit of innovation, the most common reasons are "making products and services more innovative" (44%) and "making internal processes more innovative" (43%), although German respondents are more likely to have conducted an acquisition to adopt a more innovative business model than their peers from the UK (33% vs 26%). German companies are also twice as likely to have bought a company to neutralise an emerging competitive threat than those from the UK (16% vs 8%).
However, the clearest distinction between German and UK firms with respect to their approach to innovation through acquisition is their primary reason not to acquire through innovation. German firms which have failed to acquire a smaller, innovative firm in the past five years cite as their chief reason—with 42% of respondents—that other companies outbid them or moved faster on their acquisition targets (see chart 1). In the UK, only 29% of respondents chose this option.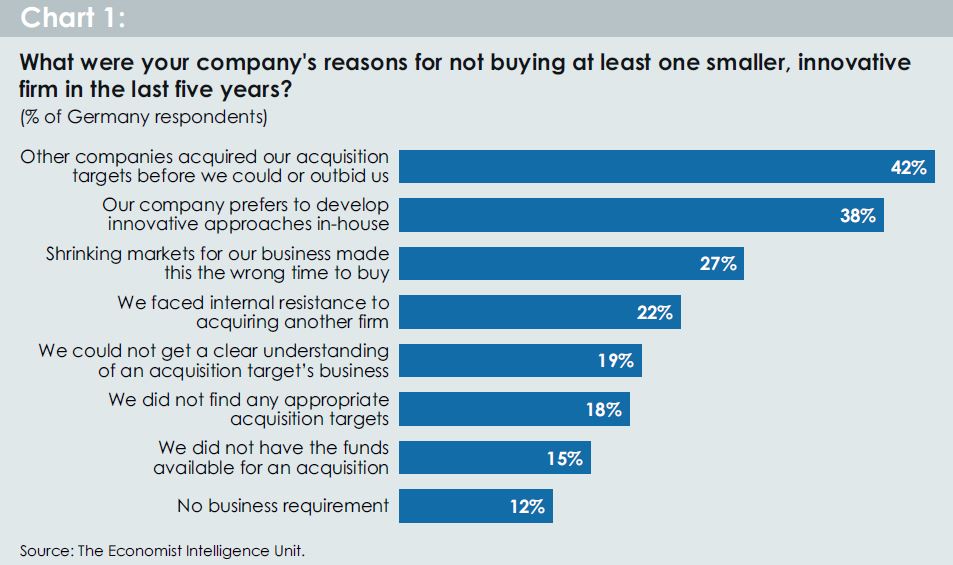 So why do German companies get outbid and overtaken? As a recent report by German law firm Heuking Kühn Lüer Wojtek observes, most mergers and acquisitions (M&As) in the country involve private rather than listed firms. This makes it harder to establish the appropriate price for the target while also making extended auctions more likely, thus driving up the price. "I think there is huge competition [in the German M&A market]," notes Dr Böhm.
Financing acquisitions is the most common challenge to innovation through acquisition, our survey reveals, cited by 45% of respondents. But this is not for lack of funding sources, according to Heuking Kühn Lüer Wojtek, whose report notes that "money is available in the market at all ends, and does not appear to make deals complicated". Dr Böhm concurs, saying he does not see a "lack of money" around. The challenge of securing that finance, therefore, may lie in making the business case for an innovative investment. By its nature, investing in an innovative product or business model is a gamble, and it would appear that German firms are struggling to justify their bets.
Cultural resistance
The second most commonly cited challenge (44% of respondents) is integrating acquired firms into their corporate culture and organisational structure.
KION, whose roots lie in manufacturing forklift trucks, made two significant acquisitions in recent years—Egemin and Dematic—both of which brought expertise and innovation in the field of warehouse automation. This has allowed the company to present a broader, more integrated suite of offerings to its customers. "An acquisition must create additional value," Dr Böhm explains. "If you just acquire to be larger, this doesn't make sense."
According to Dr Böhm, the key to the successful integration of corporate cultures is to avoid "imperialistic behaviour", as he puts it. "This is what causes massive resistance, because the employees aren't stupid. They've done a good job and had a very good performance and good profitability, and then they have to listen how to do their business. They will ignore this. It will not work. Then you cause resistance."
Instead, Dr Böhm suggests, the best approach is to "cherry-pick" the strengths of the acquired company that best complement those of the acquirer. Dematic's engineers were experts in agile engineering while KION had a culture of value engineering, so the combined operation married the two approaches.
A common mistake is to assume that the obligation to change rests solely with the acquired firm. In fact, the acquirer must itself adapt to ensure that the innovative qualities of the acquisition target are preserved and fully exploited. "To build a new capability through acquisition, at least half of the effort must be channelled into transforming the existing culture of the acquirer, so that established metrics foster rather than exterminate the new ideas and technologies coming in," consultancy PwC warns.
There is little agreement among respondents on the best way to manage an acquired business once the deal is complete. Over one-third of German respondents say that apart from common functions such as finance, the best way is to allow the acquired firm to operate as a separate entity, indefinitely. But more believe the acquisition target should be integrated into the larger company once it reaches a certain level of maturity, either quickly (29%) or gradually (24%).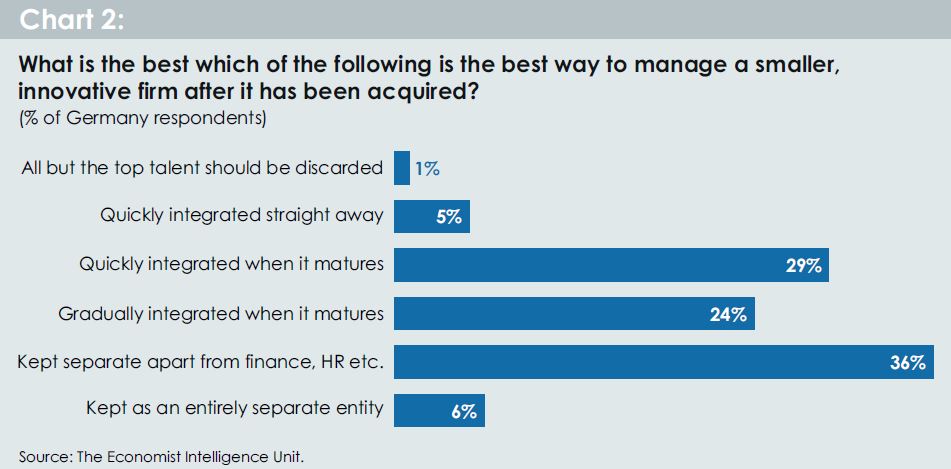 The pace of integration
In KION's case, though, the Dematic integration happened within the space of a few weeks. Dr Böhm puts this down to preparation, while also noting that the staff of Dematic—which had two private equity owners—were "very happy" to have found a home in a company that was trying to create sustainable growth, rather than sell them on. "They were also interested in a fast integration," he adds.
In Dr Böhm's view, rapid integration helps employees to stay focused on the task at hand. "In my career, I experienced [various] integrations that failed, because they [took] too long," he explains. "People lost focus and momentum."
It is also vital that personnel from the acquired firm, particularly senior staff, can see that the acquisition broadens their horizons. This means ensuring that they are successfully integrated into teams across the group, rather than being segmented off with other employees who joined through the acquisition. "You have to give the people a career path [where] they can contribute and feel that they are important—that they have responsibility over [people representing] the entire company, not just the acquired guys," says Dr Böhm. "All over the company, we created mixed teams."
It is most important, however, to have a clear integration strategy before you choose your acquisition targets. "You have to think how to integrate, and then find the company to acquire."
These are lessons that will prove strategically crucial, and increasingly so. Almost half (49%) of the survey's German respondents say their companies are actively pursuing acquisitions of innovative firms, and 40% would consider such an acquisition if an opportunity arose. If competition is already fierce, it's only going to heat up even more. Those who succeed are likely to be the ones who know what they want and are ready to make the most of the innovation they have acquired.