Assessing urban security in the digital age
The Economist Intelligence Unit has launched a new index measuring urban safety and security. The Safe Cities Index 2015, sponsored by NEC, ranks 50 cities worldwide across five continents. 
The Index introduces a new definition of urban safety. Every city's ranking is based on an average score across four categories: digital security, health security, infrastructure safety and personal safety.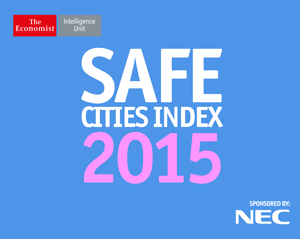 Go to the Safe Cities Hub for more:
Watch an interview with the governor of Tokyo (video, Japanese with English subtitles)
Access the interactive data workbook to generate personalised city comparisons
Watch EIU editors from across the world provide a personal take on city safety
Find out what a chief resilience officer does
Download the Safe Cities Index 2015 white paper